Setting up corruption-fighting bodies not enough to overcome corruption - Daron Acemoğlu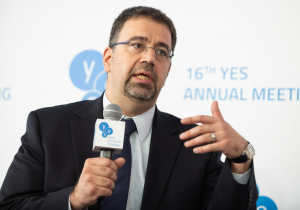 14 September 2019
Elimination of corruption requires the consolidated effort of the entire civil society, setting up special corruption-fighting bodies is not sufficient to fight this phenomenon, Massachusetts Institute of Technology Professor of Economics, Daron Acemoğlu, said when speaking at the 16th Yalta European Strategy (YES) Annual Meeting, "Happiness Now. New Approaches for a World in Crisis" organised by the Victor Pinchuk Foundation.
"In fact, corruption-fighting bodies often make the situation even worse as they are viewed as having been imposed by the elites. It is not possible to solve the issue of corruption merely by setting up a body. It is necessary that society become an equal partner in introducing reforms, for those reforms to be promoted by civil society and the media which would make the government and judicial system establish fair rules of the game, and tro abide by these rules", Acemoğlu said.
Acemoğlu cited the example of Finland and the Scandinavian countries which have managed to eliminate corruption and achieve high standards of living.
"Ukraine also has a potential advantage which originates from two sources: the first is its political tradition including Cossack militarism and Austro-Hungarian parliamentarism, and the second is people's willingness to take part in protests. This is the energy which should be developed and institutionalised. If you don't do this – protests evolve into revolutions but won't bring any long-term effect," Acemoğlu said.
Acemoğlu also said that an integrated approach is required to overcome corruption. "There
should be more profound changes in institutions, not only changes related to fighting corruption: but reducing the power of oligarchs in the system, and increasing accountability to society via non-governmental organisations. Moreover, the economic system has to be changed comprehensively to leave no space for corruption," Acemoğlu said in conclusion.
←

Back to news list